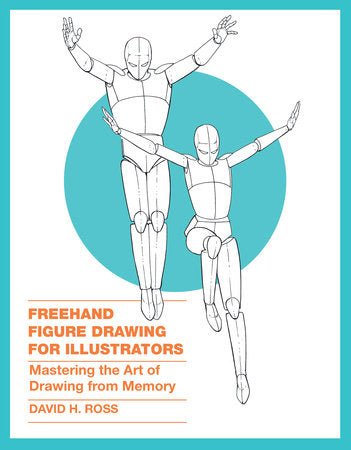 Freehand Figure Drawing for Illustrators by David H. Ross
 An artist's guide to figure drawing that applies the classic concept of the "drawn mannequin" to modern illustration, allowing renderers to capture the figure from a variety of angles and poses without the use of models or photo references.
For today's in-demand figure artists--comic creators animators, video game artists, concept designers, etc.--it is necessary to be able to quickly draw the human figure in a variety of action-packed poses. In Freehand Figure Drawing for Illustrators, David Ross shows readers how they can master freehand figure drawing without visual reference by using a modern twist on the classic technique of blocking out the human figure as a mannequin. Step-by-step lessons guide aspiring illustrators from basic poses (standing, running, jumping) to extreme motions (throwing punches, high kicking). For on-the-go artists, Freehand Figure Drawing for Illustrators allows them complete freedom to bring their figures to life at any time.