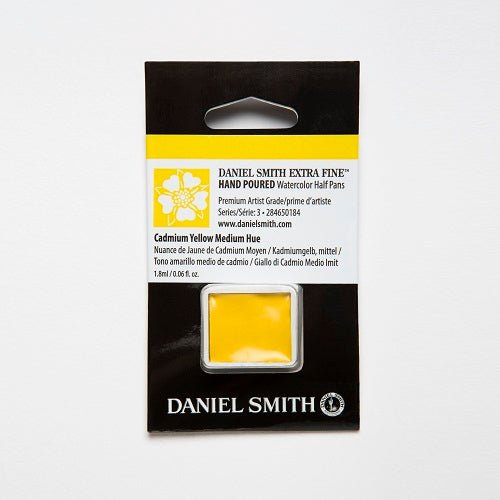 Daniel Smith Extra Fine Watercolor Half Pan - Cadmium Yellow Medium Hue
Pigment:  
Pigment: Nickle Titanate Yellow, Benzimidazolone Yellow H4g, Diarylide Hr-70 PY 53 (77788), PY 138 (13980), PY 83 HR-70 (21108), Lightfastness: Excellent, Semi-transparent, Low-staining, Non-granulating
A mid- toned, slightly red yellow is perfect to add heat, energy and a focus in any painting. It disperses beautifully in water for smooth, rich washes. Daniel Smith has created Safe, Vibrant Cadmium Hue Watercolors! Their new formulas provide all the density and richness of classic cadmium colors. The hues are virtually identical in color to their namesakes, but cleaner in mixtures and stronger in tints – you'll find a little goes a long way. 
Daniel Smith Extra Fine Watercolor half pans are hand poured, professional watercolors with the highest pigment load possible.