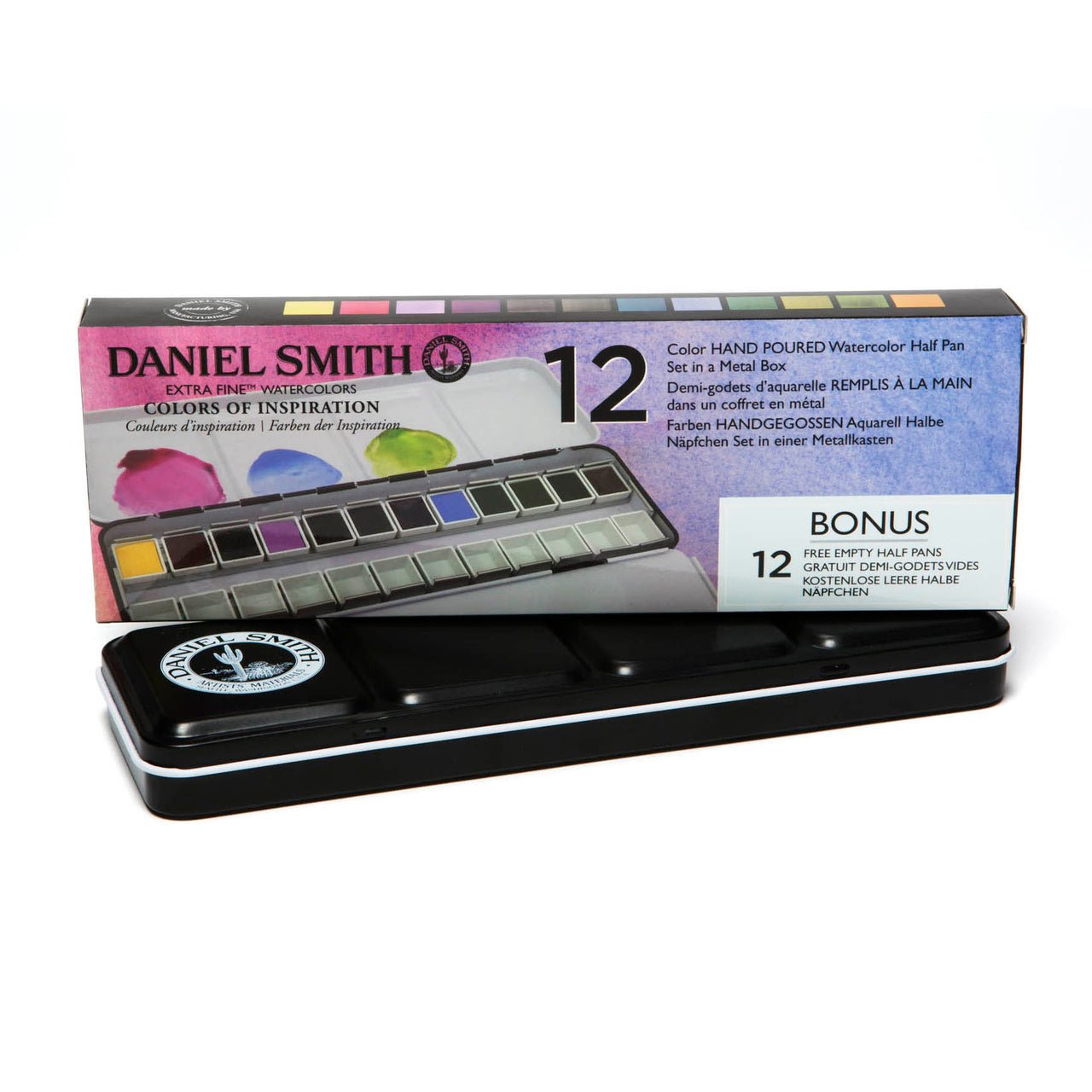 Daniel Smith Extra Fine Watercolor Set - 12 Color of Inspiration Hand Poured Half Pan Set in a METAL BOX with BONUS 12 Empty Half Pans
12 Colors of Inspiration HAND POURED Watercolor Half Pan Set in a Metal Box is filled with beautiful DANIEL SMITH Watercolors. Artists are excited by color and find themselves inspired by new, juicy colors which is exactly what our 12 Colors of Inspiration in a Metal Box is designed to do!
Nine of these colors are unique to DANIEL SMITH (2 are PrimaTeks made from minerals!) and the other 3 complete the set for mixing.  Beautiful and reliable color is why DANIEL SMITH Watercolors have become the favorites of so many artists world wide. 
 As a BONUS, there are 12 empty half pans ready for filling with your favorite DANIEL SMITH Watercolors to customize your Metal Box.
The 12 DANIEL SMITH Extra Fine Watercolors in the set are:  ( * indicates colors unique to DANIEL SMITH.)
Cadmium Yellow Medium Hue
Quinacridone Rose
Wisteria *
Rose of Ultramarine *
Moonglow *
Shadow Violet *
Phthalo Blue (GS)
Lavender *
Cascade Green *
Serpentine Genuine * (PrimaTek Watercolor)
Green Apatite Genuine * (PrimaTek Watercolor)
Quinacridone Gold *