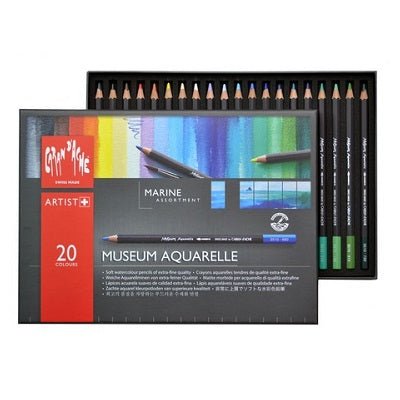 Caran d'Ache Museum Aquarelle Pencil Set of 20 - Marine Assortment
Caran d'Ache has created these watercolor pencils with an emphasis on lightfastness. Museum Aquarelle Pencils feature a soft 3.8 mm diameter lead. Museum Aquarelle pencils can be used both dry and as watercolors. Made in Switzerland. Click on "more info" to see colors.
 Includes White, 049 Raw Umber, 060 Vermilion, 149 Night Blue, 161 Light Blue, 171 Turquoise Blue, 182 Cobalt Green, 212 Chromium Oxide Green, 214 Beryl Green, 240 Lemon Yellow, 242 Primerose, 496 Ivory Black, 508 Payne's Grey, 630 Ultramarine Violet, 640 Dark Ultramarine, 660 Middle Cobalt Blue, 661 Light Cobalt Blue, 670 Permanent Blue, 739 Dark Sap Green, and 850 Cornelian.