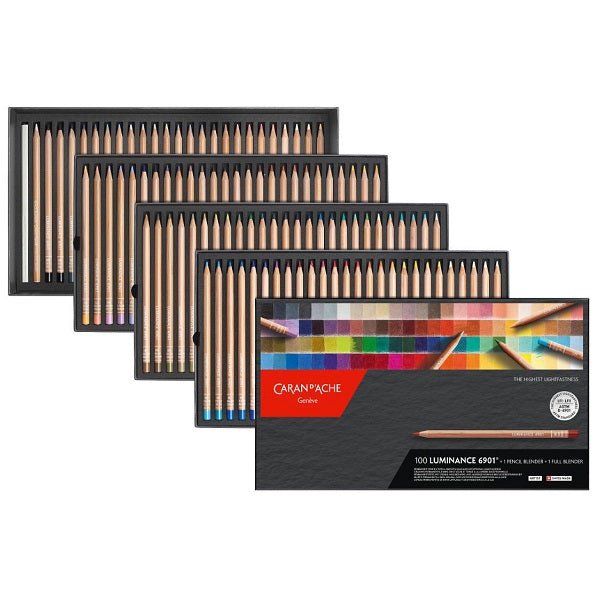 Caran d'Ache Luminance 6901 Colored Pencil - 100 Color Set (with 24 New Colors)
Box Set Includes: 
White, Silver Grey, Steel Grey, Black, Olive Yellow, Green Ochre, Orange, Yellow Ochre, Raw Sienna, Brown Ochre, Olive Brown, Apricot, Cassel Earth, Permanent Red, Russet, Burnt Sienna, Scarlet, Burnt Ochre, Ultramarine Pink, Violet Grey, Light Aubergine, Manganese Violet, Violet, Violet Brown, Prussian Blue, Light Blue, Phthalocyanine Blue, Turquoise Blue, Malachite Green, Light Malachite Green, Cobalt Green, Ice Blue, Beryl Blue, Grass Green, Moss Green, Lemon Yellow, Primrose, Purplish Red, Sepia, Spring Green, Slate Grey, Payne's Grey 30%, Payne's Grey 60%, Payne's Grey, Raw Umber, Anthraquinoid Pink, Perylene Brown, Crimson Alizarin Hue, Crimson Aubergine, Ultramarine Violet, Middle Cobalt Blue Hue, Light Cobalt Blue, Genuine Cobalt Blue, Dark English Green, Olive Brown 10%, Olive Brown 50%, Dark Sap Green, Grey Blue, Buff Titanium, French Grey 10%, French Grey 30%, French Grey, Bismuth Yellow, Golden Bismuth Yellow, Naples Ochre, Brown Ochre 10%, Brown Ochre 50%, Raw Umber 10%, Raw Umber 50%, Cornelian, Burnt Sienna 10%, Burnt Sienna 50%, Burnt Ochre 10%, Burnt Ochre 50%, Sepia 10%, Sepia 50%, Terracotta, Raw Russet, Herculanum Red, Hibiscus Pink, Quinacridone Purple, Bleu de Nimes, Ultramarine, Chromium Oxide Green, Medium Cadmium Yellow Hue, Indian Yellow, Dark Cadmium Orange Hue, Butternut, Carmine Lake, Anthraquinone Carmine, Pink White, Violet Pink, Dark Indigo, Indanthrone Blue, Chrysocolla Blue, Middle Verdigris, Dark Phthalocyanine Green, Warm Earth 5%, Warm Earth 40%, Warm Earth 70%. 
Full Blender
Pencil Blender
Duplicate colors of white and black
Caran d'Ache Luminance colored pencils are the highest quality colored pencils and are manufactured in Switzerland. They have the same lightfastness as a high grade oil paint. Luminance pencils conform to ASTM D-6901. 80% of these pencils are rated LF1 and 20% are rated LF2. This level of lightfastness was achieved by using the finest pigments. Luminance pencils will not form wax bloom. The texture and hardeness of Luminance pencils are extremely uniform with an 8B hardness for all colors.